For anyone who invested in Prime Mining Corp. (PRYM: TSXV, PRMNF: OTC) at the beginning of the year, they would have more than doubled their investment. With gold prices well above $1600/oz, its highest level since 2013, the Company's share price realized gains of 67%. Despite these enviable returns, we strongly believe in Prime Mining's solid fundamentals and an inevitable rerating of the Company's share price.
Apart from commodity prices, which is out of management's control and therefore considered an exogenous factor to a project's fundamentals, the number one reason for a mining stock to re-rate is when the market sees tangible evidence of a strong mine plan coming together and rewards the company accordingly.  To this end, Prime Mining's Los Reyes gold project has already made significant in-roads and the fact that it will eventually go into production can be taken as something of a fait accompli.
What sets the Los Reyes project apart from its peers is that it brings together a number of key features on all four levels, including geological, financial, location and management depth that is critical to a mining project's successful transition from exploration company to producer.
Geology- A high grade oxide that is amenable to low cost processing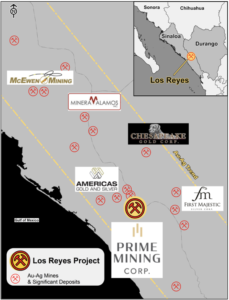 The Los Reyes project has a resource of more than 500,000 ounces at an average grade of 1.25g/tonne, though huge upside is expected once management announces their revised resource update at the end of March.
The current resource does not consider the 1800 drill results taken at surface. As such, once the updated resource is announced, there should be an immediate re-rating of the company's share price and therefore it would be prudent to start buying the share before this occurs.
As an oxide project, the Los Reyes gold deposit is amenable to simple heap-leach processing, which is one of the lowest cost processing operations and least capital-intensive methods out there.  This method can easily be outsourced to contractors, meaning there are no big plant and equipment purchases or build outs required.
6-8-month payback period is expected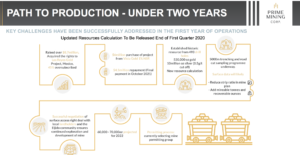 With a low capex outlay expected (management projects only $30m will be needed) and a mine that is able to produce a minimum of 60,000-70,000 ounces of gold annually, management believes that they can achieve a 6-8-month payback on their asset.
Similar mines in the region produce gold for roughly $750/per ounce (La Trinidad, El Gallo, La Cienega). At those rates, the potential profit margin is $850/oz. When multiplied by 60,000 ounces annually, this equated to $51m per year, which is more than double their current market cap of only CAD$28million (US$20.2million).  This means that the share price is severely undervalued relative to its potential free cash flow.  Therefore, as Prime Mining's management team transforms its property to a producing asset, the market should reward them accordingly and put them in the category of mining projects that trades at 5-6 times cash flow.
A "prime" location in a well-known gold jurisdiction
Located in Northern Mexico with many operating mines, including gold mines nearby, the Los Reyes project indeed has a most fortunate address.
Furthermore, all the necessary infrastructure is in place and negotiations have been completed with local landowners and the Ejido community. This means that there is vital buy-in from the local community, which will benefit from the jobs created at an operation that will be labor-intensive and non-mechanized, with wider economic spin-offs. This is one example of how the project has been de-risked at a time when investors put a high premium on ESG compliance.
A dedicated management team that's done it before
The management group-led by Chairman Daniel Kunz, CEO Andy Bowering and COO Greg Liller- have put several mines into production and have a strong reputation for returning value to shareholders. This asset- Los Reyes, is their smallest and most straightforward project.
The key to an equity being re-valued is the market's confidence in management's ability to execute. Men, of the caliber of this management team do not stake their reputation on a project that's not going to pay dividends. Rather, the team sees Los Reyes as an unusual opportunity to generate wealth quickly for themselves and their shareholders.
To this end, the entire leadership team has aligned themselves with their shareholders by taking their compensation in shares alone, rather than drawing a salary. This again suggests that management is expecting Los Reyes to be highly profitable.
Kunz is the former CEO of Ivanhoe Mines, which was later acquired by Rio Tinto. During his eight years as CEO, he led the company to a $4bn increase in market cap and increased the share price by tenfold.
In addition to his time at Ivanhoe, Kunz also founded and built US Geothermal Inc. which recently sold for $250 million, is the founding director of neighboring project Chesapeake Gold and he has   helped build several other mines.
Joining Chairman Kunz is CEO Andy Bowering.  Andy is a renowned entrepreneur whose last venture, Millennial Lithium (ML: TSXV) was a thirty-bagger-listing at $0.15 and surging to $4.62 in just over two years. Andy has used his own personal money to acquire this project rather than relying on an expensive capital raise and risk losing the opportunity.
Potential Risk-Too Big too fast
Every investment has a measure of risk. In this instance the risk is clear- the Los Reyes deposit could become too big too fast. In general heap leach mines have lower gold recoveries than a more expensive mill. As such, if the deposit is too large or too high grade, which Los Reyes could turn out to then a lot of that gold won't get dissolved and recovered from a heap leach operation.
As such, if Los Reyes turns into a major, multi-million-ounce gold deposit, management would be leaving far too much money on the table by employing a quick and inexpensive heap leach operation.
Management has already publicly stated that they see the potential for a multiple increase in the current resource. Two million ounces is a target for all these juniors which is the minimum number that a mid-tier producer should have to make an asset a worthwhile buy.
However, this new resource calculation that is coming out in March. To date, only 40% of the known mineral structures have been explored and there is still a full 10km of strike length left to explore. Therefore, if the resource base increases substantially, the share price will have to take this into account and the market needs to reward the company accordingly. Presently Prime Mining Corp is trading at a deep discount for being relatively unknown and not yet explored. Once this data is made public at the end of this quarter, assuming the data presents a much larger deposit, the market needs to start pricing this factor into the stock.
Conclusion: Prime Mining Corp's (PRYM: TSXV, PRMNF: OTC) is trading at a deep discount relative to predicted free cash flows
Since the beginning of the year, Prime Mining's stock price has climbed from 31cps to 46.5cps- an increase of 50%, yet still this company appears undervalued and a market re-rating is imminent as the project gets incrementally closer to production.
With a mining cost of less than half the current gold price, the company is expected to enjoy annual cash flows in the tens of millions of dollars and yet has a market cap of only CAD$28million ($US20.8million). As such it is only a matter of time before the market notices the gap and re-rates the stock.
In essence, this project has everything that market participants are looking for, a low capex gold mine that is expected to generate large cash flows, with a strong management team that is fully aligned with its shareholders and has a history of generating wealth for shareholders.
As management delivers on their goal of bringing the Los Reyes project into production over the coming 20-24 months, Prime Mining Corp's (PRYM: TSXV, PRMNF: OTC) stock clearly has the potential to re-rate from its current CAD$28 million market cap.